I remembered taking the rose photo while writing about the day we spent near Flathead Lake in Montana. However, it wasn't in
my Flickr stream
. I searched for it in Lightroom and realized that it hadn't made the cut...it just wasn't a photo I was happy with so I didn't put it out there. However, all roses are beautiful and I though these beautiful blooms deserved a special chance.
So, I took a few editing liberties in Lightroom - further blurring out the leaves which in the original had been entirely too prominent. I also adjusted the color in order to really play up the light that was hitting the roses. I exported the photo to Photoshop and added the text - a favorite quote from Ralph Waldo Emerson that is one of my life rules - in the same color as a darker shade of red pulled out via the dropper tool from the rose.
Do you think this would make a pretty note card or postcard? I'm thinking of hosting a card swap...a quote card swap. Do art in any way you choose - photography, mixed media, etc. The only rule ... you must include a favorite quote - either your own or one from someone else - in the piece. Would you participate?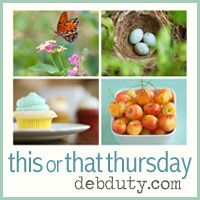 This week I'm linking up with Deb Duty Photography and This or That Thursday. Visit Deb and find others posting on This or That Thursday at http://www.debduty.com.