Greetings from NOLA! I'm here attending Blackboard World this week and will be smattering in a little geekdom to my normal art and photography stuff. I'm hoping to get some time with the camera in New Orleans as well to keep up the photography while I'm here. If you're new here just for the Bb World posts, welcome. If you're a regular visitor, we'll be back to normal programming next week.
Surprisingly, my most viewed picture on Flickr (of the more than 8000 in my account), is this one of a QR Code, last year at Educause. The title of the photo is "QR Codes are the norm for poster sessions".
QR Codes...those tiny little blocks of black ink that look like a Rorschach test gone wrong...that you see popping up everywhere nowadays can hold text, links, phone numbers and more. You can make your own using a number of online QR Code generators like
Kaywa QR Code
generator. A QR Code that will link you to my Tumblr web site is shown below. It was made with the Kaywa QR Code generator.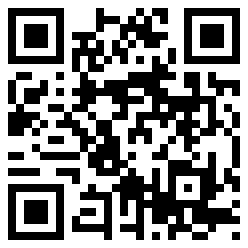 Since the BBWorld posters are usually available during the opening reception that will be held tonight, I thought I'd share a little tip for getting the most out of your QR Code Reader while browsing the posters.
If you've been to a professional conference and tried to make your way through poster sessions, you know they are generally crowded and a little frenzied. I enjoy them though as you often get to talk one on one with folks who have spent a lot of time on big projects. However, the change to QR codes as a way to get more info on a particular topic, left me wondering how to keep a catalog of all the QR codes I'd looked at so I could reference them later when I got back home and could do something with them. However, you don't really have to remember them as most QR Code readers have a history feature built in. Just scan the code and move on. When you get back home, just open the app back up and scroll right back through the history to see what you've scanned.
I have an
Android RAZR Maxx
smart phone (LOVE.THIS.PHONE!! and it's AMAZING battery life). My QR Code reader/bar code scanner of choice is Bar Code Scanner. It's available for free from this link on the Amazon app store.
or you can
get it here
from Google Play. After scanning a QR Code you can send it by email, by SMS text message, or view it in the browser. They are also saved in the history which is accessible by clicking the menu button while you've got the app open. That's far faster than having to email each link back to yourself to remind you to look at them when you get home.
For iOS users, the "
QR Reader for iPhone
" app seems to have good reviews and also sports a history function. That said, I'm not a regular iOS user so I can't speak to that one specifically.
Have other tips for getting the most out of poster sessions?